You can read an interview with Stephen Davis at Literary Titan.
My name is Stephen Davis… and I usually stop there, because who I am is really not that important.
But since you seem to be curious…
I was born and raised in Wilmington, Delaware. I have a B.S. in Political Science, an M.S. in Psychology, and a Doctor of Divinity degree.
And my life has been full of interesting and challenging experiences.
I began my 'spiritual journey' at age 19, after reading There is a River by Thomas Sugrue. It is the biography of Edgar Cayce, and I immediately went to work for his son, Hugh Lynn Cayce, at the Association of Research and Enlightenment in Virginia Beach, VA.
Then, in chronological order, I was:
~ Drummer, pianist, bassist, and musical director for Up With People when it first started.
~ Physician's Assistant in the U.S. Army, including a year in Vietnam.
~ Commercial pilot and Administrative Assistant for Cochise Airlines in Arizona.
~ Elected as State Senator from District 9 (Tucson) in Arizona. (In 1975, I was awarded the George Washington Medal of Honor from Freedoms Foundation at Valley Forge for my article, "The Government Versus the Economy," published in Parade Magazine).
~ Commodore's Staff Aide to L. Ron Hubbard in Scientology, and founder and first president of the World Institute of Scientology Enterprises (WISE).
~ Director of Development and instructor at Sherman College of Straight Chiropractic, where I wrote my first book, Practice Management Made Easy.
~ Author (coder) of nationally-renown computer software to run a chiropractic office (the Precision Chiropractic Computer System).
~ Losing candidate for the U.S. Senate in South Carolina (Strom Thurmond beat me when he was 82 years old! How can that happen?).
~ Ranch manager for a buckskin breeding ranch in Arizona.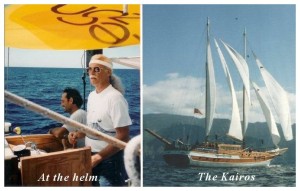 ~ Cook and captain (alternating) of an 80-foot whale and dolphin research ship (Kairos) in the Canary Islands.
~ Author of an award-winning screenplay and two books (novels) based on ten years of research (including over 1500 medical studies) proving that HIV cannot be the cause of AIDS (Wrongful Death: The AIDS Trial?), and that the so-called HIV tests can have false positive results as much as 90% of the time (Are You Positive?).
I had a car accident that broke my neck in 2003, and since then I have been taking it "easy," researching and writing Butterflies Are Free to Fly: A New and Radical Approach to Spiritual Evolution in 2010 and delivering my Holographic Universe Workshops all over the world. (Quantum physics has been my "hobby" for almost 30 years.) I am really honored that so many people (100,000+) have downloaded (and read, I hope!) that book.
You might ask what I've been doing for the last 10 years, since I stopped touring with my Holographic Universe Workshops and put them online. I've been extremely busy getting used to living as a butterfly. (Jed McKenna was right as far as I'm concerned… it takes 10 years to adjust to this new way of thinking and living.)
I have a wonderful family with three children and three grandchildren. I had two beautiful and intelligent wives (15 years each), but I am now single and living in the United States.
I'm 77 years old.
Is that enough?